Monthly Meeting Schedule
Location:
Garland Women's Activity Center
713 Austin, Garland, TX 75040
All meetings are held at 2pm.
(Doors open between: 1:30 and 1:45.)
Sunday, October 21, 2018
Annual Halloween Party. Treats and games for the kids. (Bring your camera!) If you will be bringing your children or grandchildren, please let Myra (972-279-9684) know how many will becoming by Sunday, Oct. 14th, so that we will have enough "goodies" on hand for all. (Or send us email right now!) Costumes (for young and old alike) are welcomed and encouraged ... as evidenced by the picture below from the 2013, October meeting!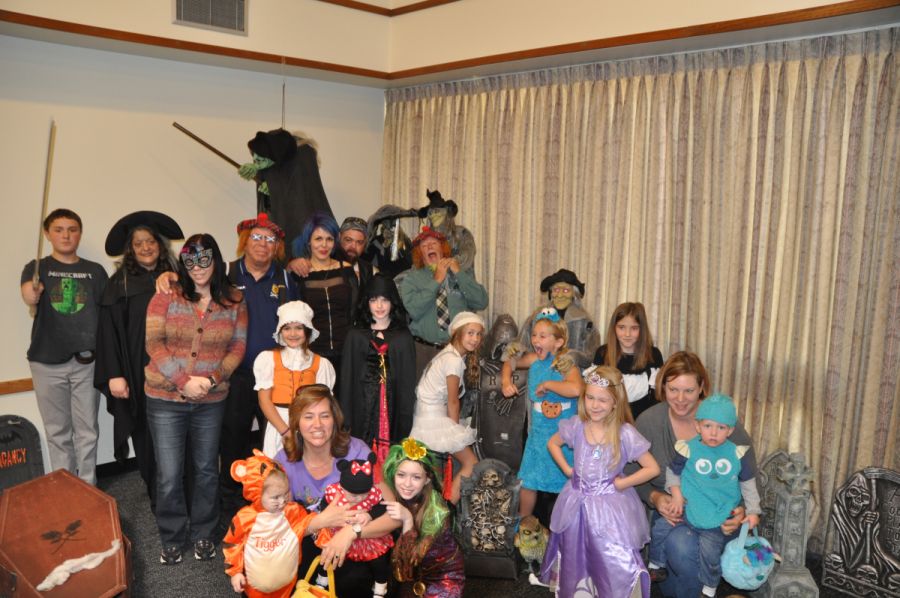 The number of folks in costume - both young and old - seems to
grow every year! This is the 2013 portrait... (Foto by Fischer)
Sunday, November 25, 2018
Program TBD.
Sunday, December 16, 2018
Annual Christmas party and potluck. Good food and fun for all! This meeting is a very family centric event, so bring the children and/or grandchildren. (We may even have a visit from our favorite, kilted Santa.) The Society will provide the meat and drink; members are asked to bring: salads, side dishes and/or desserts and come hungry.

Sunday, January 20, 2019
Program TBD.
Sunday, February 17, 2019
Program TBD.
Sunday, March 24, 2019
Program TBD.
Sunday, April 28, 2019
Scottish cooking ...
Sunday, May 19, 2019
Business meeting will include election of officers for the 2018-2019 meeting year.
Program TBD.
Sunday, June 23, 2019
Business meeting (kept very short) will include installation of officers for the 2019-2020 meeting year.
Annual June potluck...come hungry and enjoy yourself!
Society to provide meats and drinks.
Members are asked to bring a salad, covered dish and/or a dessert.
(Bring the kids and/or grandkids, too. It's a family oriented meeting.)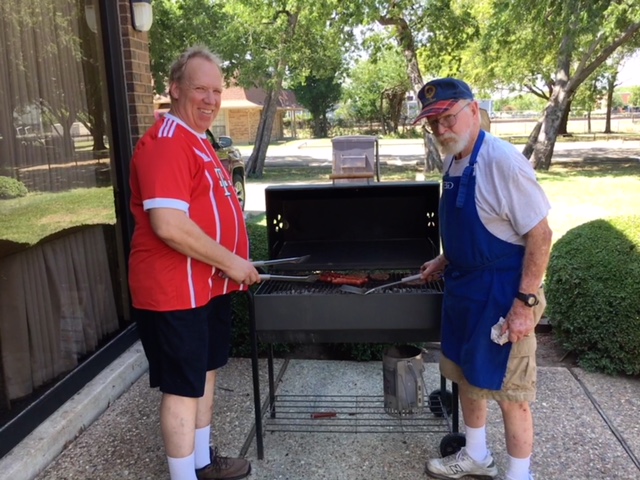 For the eighth year in a row, Society members cooked burgers and dogs for attendees at the 2018 June Potluck. Cooking this year were member Dave Rave and former Society president Gene Teakell (l-to-r). The family-oriented potluck is a tradition for the final meeting of "our year," which runs from September through June. In 2011, we expanded that tradition (at Gene's urging) to include burgers and dogs grilled on the patio just outside of our meeting hall ... and we've continued that tradition ever since. Thank you gentlemen! (Photo by Duncan)
No meetings in July and August.
Take a trip to Scotland... It's a great time of year to go!!
Sunday, September 15, 2019
Program TBD.
Members:
If you would like help "erase" any of the "
Program TBD
" statements above, please contact one of the society officers (or
click here
to send email to our webmaster) and let us know what you have in mind. Members are encouraged to share images and stories of their travels; "lessons learned" from genealogical research efforts; presentations about historical Scottish events or figures, etc. We are also open to presentations from individuals outside of our group.
Remember:
Our collective success is built on the abilities and contributions of all of our members ... not just a few!